We've Simplified Everything about In-Floor Radiant Heating:
Easier Design

Use our How-To pages, or purchase our pex layout design service to get a jump on your all you in-floor heating planning.

Easier Distribution

No more walls of plumbing, valves, or manifolds. Our HUG Hydronics system manages all that in one low pressure tank.
For the DIY'er

* Installs in about an hour

* Requires only basic tools

* Full installation support, including videos

* Simple start up & maintenance

* If you can install a dishwasher, you can install a HUG In-Floor Heating System

Learn more

Contractor

* Installs in under an hour

* Increase your profitability

* Decreases call backs

* Expandable; easy to add pumps, zones and heat sources

* Complete Robust Solution

* 12 year limited warranty

Learn More
A Revolutionary New Way of doing In-Floor Heating
Instead of a wall full plumbing, valves, expansion tanks and manifolds, the HUG Hydronics, in-floor heating unit is the size of a suitcase and can be installed by you in about 1 hour.
Find out what you'd need for a project
Click on each dot to learn more:
Compact, Clean Looking, and Easy
Suitcase Sized

* Tank Dimensions: Width: 33" (84 cm), Height: 22" (56 cm), Depth: 17" (43 cm)

* Compact and clean.

* No walls of plumbing fixtures or multiple parts to buy.

Shop In-floor Heating Systems

On-Demand Heater Ready

The HUG Hydronics In-floor Heating Unit is ready to pair with on-demand gas or electric water heaters. Rebates available on some heaters.

Shop Water Heaters

Saves Time & Money

Easy to install and repair with everyday tools. Takes about 1 hour to install, instead of 8+ hours required of traditional hydronics plumbing.

Contractors & DIYers love it!
You can do it yourself!

Installation takes a few common tools. Repairs, and changes can all be done with no tools, by you in just a few minutes with our replacement/ add-on parts and some Just Ducky directions.

Connects up to 3 heat sources at once

You can choose 1,2, or 3 heat sources for your flooring warm water. You can use solar, electric, propane, natural gas, wood or any other hot water source you can imagine!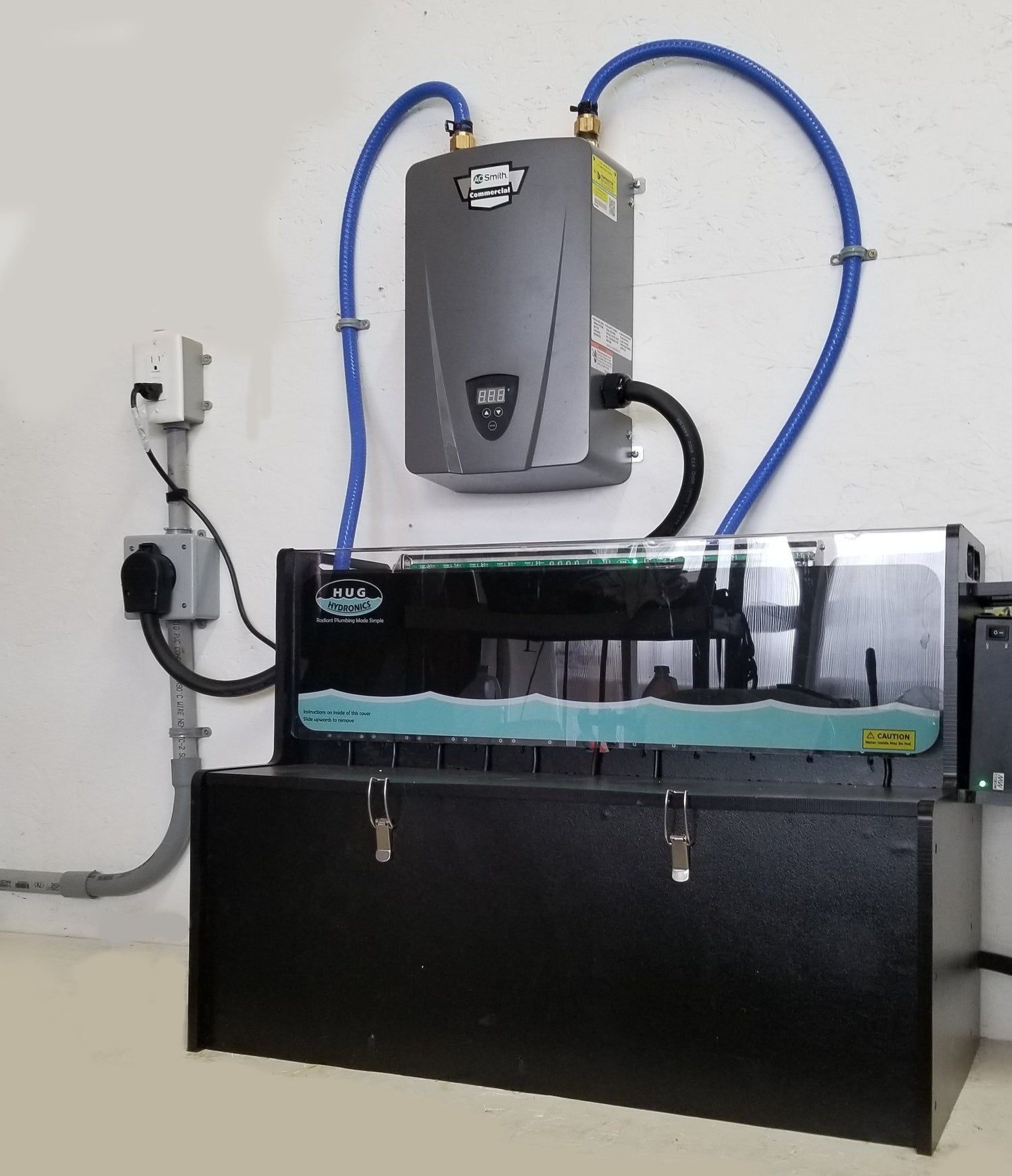 No Pressure! Do it yourself In-floor Heating
Skip the manifolds, skip the wall of complicated plumbing parts, with our low pressure in floor heating system, you can install it on an hour,
Button label