Full Kit - XE COMBI Boiler 150K BTU State Proline [ Propane ]
Regular price
$3,843.00 USD
Regular price
Sale price
$3,843.00 USD
Unit price
per
Sale
Sold out
This kit includes everything you will need to hook up your boiler to your new Hug Hydronics System, this kit contains: Your Boiler, RIB, Fitting's kit, and the Combi Adapter kit.
You can find more information about the items below!
The Boiler:
The 150K BTU Combi boiler will 4.6 gallons per minute of hot water for your showers and your floors. 
The ProLine® XE Combi Boiler provides high efficiency space heating and domestic hot water (DHW) in a compact footprint that is easy to install and maintain. The efficiency of the Combi is rated at 95% AFUE (Annual Fuel Utilization Efficiency) making it available on many utility rebate programs. Lastly, the plain text Setup Wizard on the Smart Control LCD display will make installation a breeze.
The SCB-150H-P indoor residential Ultra-Low NOx Combi Boiler uses up to 150,000 BTU/hr of Liquid Propane to deliver a continuous supply of hot water and space heating for a home in high altitude regions. This High Efficiency heating system has a 95% AFUE and is ENERGY STAR Certified.
You will need the Combi-Boiler Adaptor to make this work with the HUG Hydronics In-Floor Heating System.
The Rib:
This solid state relay is very handy for coordinating any outside devices to run when the HUG Hydronics in-floor heating system is running.
It's conveniently mounted in an enclosure.  10 amp, SPDT, with a coil that can be driven at 10-30VDC or 120VAC.  Model RIBU1C by Functional Devices, Inc. [datasheet]
The Fittings Kit:
Included with every Boiler when you buy our Hydronics system is a set of fittings and the installation guide and spec sheet.
The Combi Boiler Adapter:
The State Pro Line XE COMBI Boiler needs an adapter to work the HUG Hydronics In-Floor Heating System. This is that adapter. Now, with one huge COMBI Boiler, you can heat your house and your hot water with the same boiler.
* Installs with 1 tool, about 5  minutes of work.
How does it work?
The State Pro Line XE's have a pressure sensor which our adapter replaces with a low water level sensor and air remover. The probe senses if the water is low. If it is it sends a signal to the purge pins to run the pump 3 seconds, raising the water level enough to purge any air.
The water sensing probe gets stuck down a tube on the top, and the power cord goes down a hole and plugs into the circuit board of the COMBI Boiler. On the HUG Hydronics Tanks the black box slips in next to the thumb screws on the back. A hose goes into the tank and a connecting cord feed to the control board and plugs into the purge pins of the heater pump (usually pump #10).
Share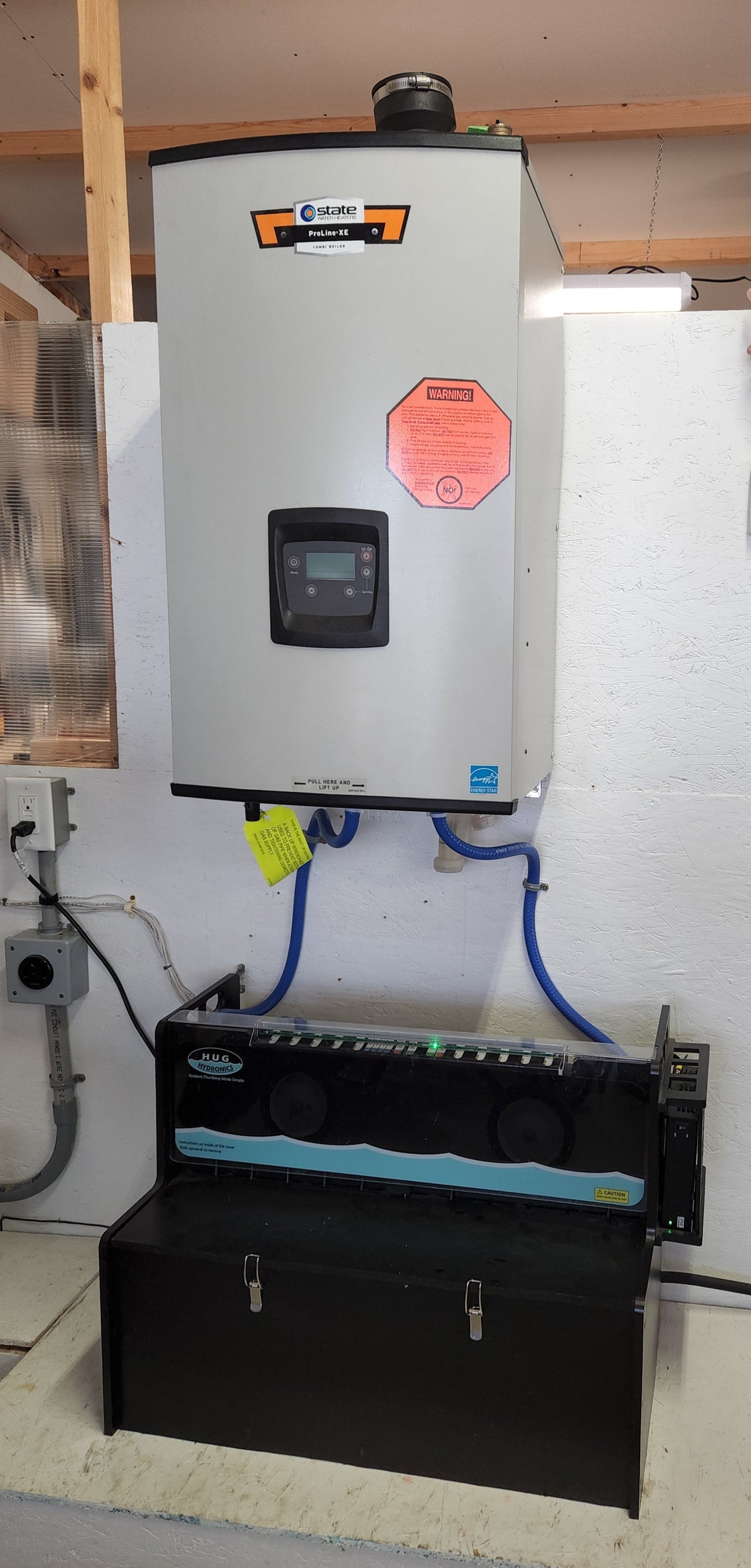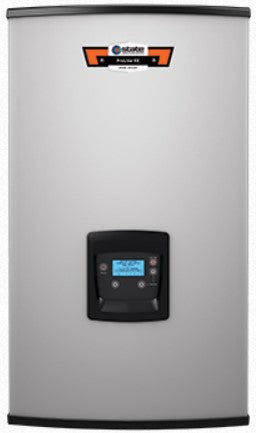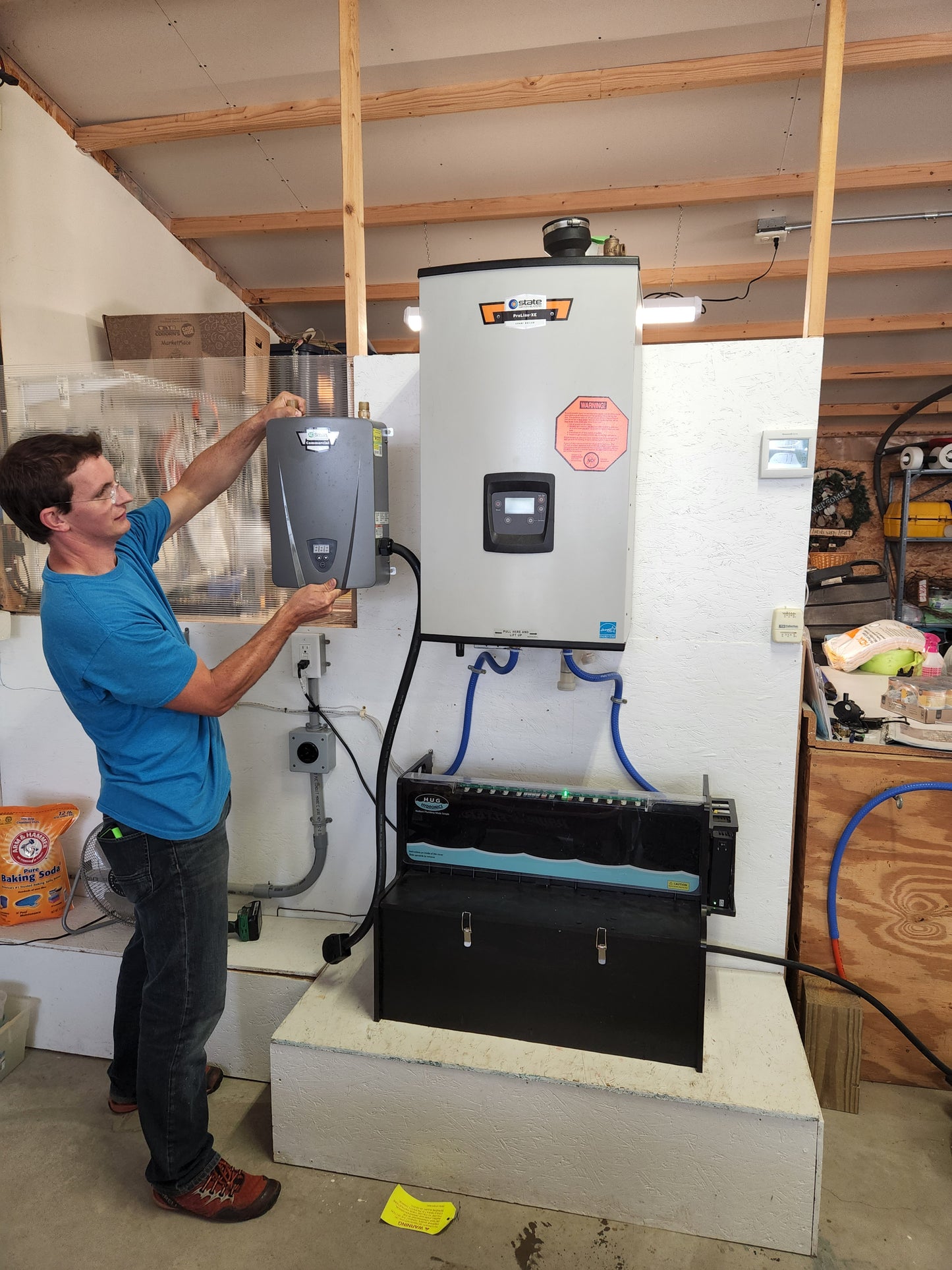 Resources
Proline XE Combi Boilers

Energy Star Certified

Design Certified